"Emilie Trice, a critic and curator, says the city is a site of pilgrimage for urban art, a "graffiti Mecca". The image on the Berlin Wall of Leonid Brezhnev and Erich Honecker embracing recently spawned a replica in Lithuania featuring Donald Trump and Vladimir Putin. The German capital is making the most of its reputation with the announcement of the Urban Nation Museum, to open next year." Link to article
"She looks like she's doing something she's good at in a place she probably shouldn't be doing it."
"It turns out that the industries of art and technology have an awful lot in common."
"The exhibition brilliantly articulates not only Trice's personal journey over the last few years, but also serves as a penetrating and poignant documentation of an era of optimism and hope in the Berlin art scene." Link to article.
"Vielleicht muss man von Außen auf Berlin blicken, um zu erkennen, woran die Kunstszene leidet. Aber die Aufforderung von Trice' Manifest, sich zu verbünden, sie wird längst praktiziert. Viele sagen derzeit: Es gibt in Berlin ein Kunstkartell." Link to article.
Curated by Christopher David and Emilie Trice of the art group Kollektiv, Lynchmob lives up to the collective's moniker: The curators asked 30 international contemporary artists to contribute or make art inspired by the work of the filmmaker David Lynch. "This show is really inspired by the building, since the space has a very bizarre, Lynchian feel," said Trice. "So we decided to just try to amplify that absurdity." Link to article
The theme of the night was "surreal." The wondrous array of work by artists including Douglas Gordon, Zak Smith, Yoon Lee, and John Isaacs (not to mention David Nicholson's luscious painting of his estranged wife dressed like Marie Antoinette styled by David LaChapelle) was as dark and illuminating as the eponymous director's own unnerving work. But the all-night vernissage was characterized less by an ominous decadence than a celebratory one, redolent of the moment when Laura Dern as Lula purrs, "This whole world's wild at heart and weird on top." Link to article
"For a while now, Emilie Trice hasn't had a sofa. It's no longer in her apartment, but rather in the art space .HBC, where the American, together with the New Zealander Christopher David, recently curated an exhibition in an improvised fashion typical of Berlin, yet conceptually strong." Link to article.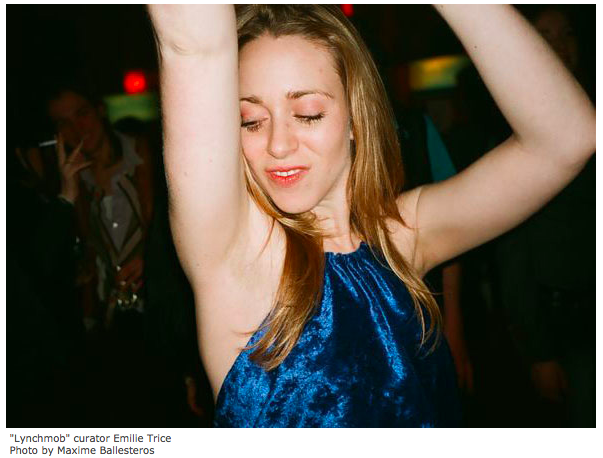 "And it seems as if some of the creative minds that came here in the past couple of years are using this chance to channel their energies into their own projects. Take the recent two-week short-run show "Lynchmob," a massive 30-artist group extravaganza and homage to eccentric film director David Lynch. Organized by 20-somethings Emilie Trice (who's worked at both Goff+Rosenthal and Bodhi in Berlin, after coming from Gagosian Gallery in New York) and New Zealander Christopher David, the exhibition showcased works by emerging and established Berlin artists in a sprawling multistory space called .HBC Kollektiv that was once East Germany's Hungarian Cultural Center. The show had the energy of an impromptu underground affair but was far too well curated and installed to be the old kind of Berlin garage show. Young enthusiasm mixed with informed experimentation? Maybe this is exactly what the recession's upside is all about." Link to article
"Anywhere else this building would be condemned, but they've given it to a bunch of 25 yr olds."
"Emilie Trice, the twenty-six-year-old curator, critic and queen bee of Berlin's artistic American ex-pat community, has brought images of wanderlust by ten top artists to the vast, open space of the Friedrichshoehe, Berlin's newest and rawest cultural center. Highway Child takes its title from Jimmy Hendrix's homage to romantic rolling-stone ramblings. Highlights are Warren Neidich's disquieting, disorienting photographs of American rest-stops and roundsides; Maxime Ballesteros (Biguet)'s photos of reckless, rootless, beautiful youth; and shots from Alec Soth's "Sleeping by the Mississippi", the work recording his five-year travels which wound up on the walls of the 2004 Whitney Biennial." Link to article
"Despite my best efforts, I fail to keep up with Trice's merry band of expats and artists…" Link to article